WebCamMax For Windows
About WebCamMax
It enables you to add thousands of cool effects to webcam video for your live video chats or streaming, and new effects are keeping added. You can show to your friends with you wearing a pair of cat's eyes, becoming a two-heads weirdie or even in a wanted poster. Dig more fun with it. It supports almost all popular webcam programs, such as Windows Live Messenger, Skype, Yahoo Messenger, Camfrog, YouTube, Ustream, and JustinTV. You can take snapshots or video clips with WebcamMax and directly share them on Facebook or YouTube. WebcamMax also works as a virtual webcam. It enables you to show videos, pictures, computer screen or even multiple webcam videos to others during your live chats or streaming. You can switch among different sources with an easy click. What's more, you can also use your webcam simultaneously on multiple webcam applications with the help of WebcamMax. Doodling is another great feature of WebcamMax. Paint at will on the video window, or stamp on it by choosing from the dozens of examples provided. WebcamMax supports various kinds of Webcam source sizes 320X240, 640X480, 640x360, 352x288 to meet your different needs.
Reviewed by Lizzie M. Walsh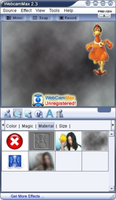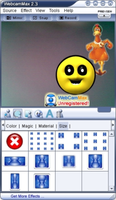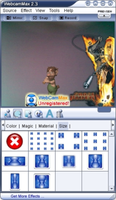 Add video effects to your webcam in real time
8.0.0.8
How to download and Install WebCamMax on Windows PC
Click on the Download button to start downloading WebCamMax for Windows.
Open the .exe installation file in the Downloads folder and double click it.
Follow the instructions in the pop-up window to install WebCamMax on Windows PC.
Now you can open and run WebCamMax on Windows PC.